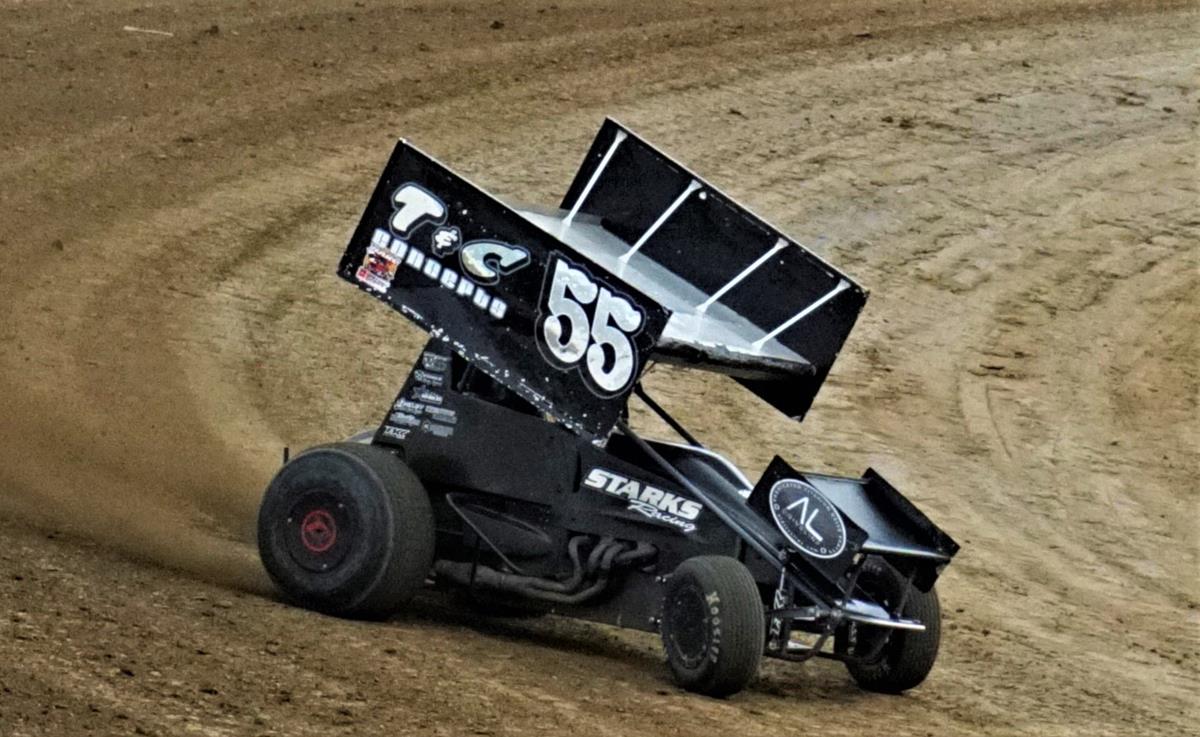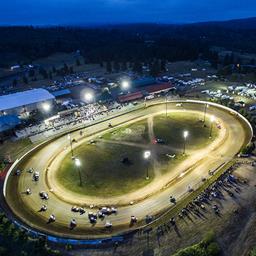 6/20/2022
Grays Harbor Raceway
---
Starks Sweeps Battle Royal, Rob Lindsey Repeats, DeMars Victorious
By Aaron Reed
The final night of the Hall of Fame 360 Battle Royal at Grays Harbor Raceway, saw a increase in 360 Sprint Cars, counting 24 cars in the field, battling it out for $5000. Also on hand were the Wingless Sprint Series and PHRA Dwarf Cars.
360 Sprint Cars
Burlington's Jason Solwold led the field to the green flag in the feature event. Trey Starks of Puyallup took the lead from Solwold in turn two, looking to extend his lead quickly. The first caution of the feature on lap 1 saw Spanaway's Lance Sargent stopped in turn one. On the restart it was Starks, Solwold, and Colton Heath of Marysville. Solwold looked low to make a pass at Starks, but was unsuccessful. Starks quickly extended his lead to a half a straightaway as Solwold looked to fend off Heath and Seth Bergman of Snohomish. Starks quickly maneuvered his way through lap traffic, putting more distance on Solwold. Heath and Bergman battled for third, as Heath looked to close in on Solwold for second. Jordi Meese of Graham brought out the caution on lap 10, spinning in turn four. On the restart Solwold dove to the low side, looking to make a slide job move, but Starks had momentum on the top side and was like a rocket down the backstretch. Lap 13 saw the red flag, as Shelton's Jay Cole went upside down on the front stretch. Cole did walk away from the incident and was ok. Starks had Solwold, Heath and Justin Sanders of Aromas, California right on his back bumper on the restart. Starks wasted no time and continued to extend his lead from the drop of the green. Sanders looked to work his way into the top three, making a pass at Heath for third in turn two. Heath fired right back and both drivers battled it out with Sanders coming out into a podium spot. DJ Netto of Hanford, California was right there, looking for any mistake from third and fourth. A late race caution for Sargent on lap 25 setup a shootout between the front runners. Starks continued to time his restarts just right and pulled away from Solwold. At the end of the feature event, it was Starks picking up the win, and $5000. Solwold, Netto, Sanders and Bergman rounded out the top five. Two sets of heat races were once again on the plan, the first set saw Sanders, Enumclaw driver Colby Thornhill, and Meese, while the second set saw Dominic Scelzi of Fresno, Netto, and Tyler Thomspon of Harrisburg, Ore take the checkered flag.
Wingless Sprint Series
Alex Hantel of Sedro Woolley and Sherwood, Ore's Rob Lindsey set the front row of the 25-lap feature. Hantel took the early lead on the low side of the raceway, with Rob Lindsey right at his back bumper. A three-car battle ensued between Portland driver Duke Johnson, Chad Lindsey of Sherwood, Ore, and Chris Greene of Spanaway, Johnson continued to run the podium spot as Chad Lindsey and Greene battle it out behind him. Hantel continued to lead early on, making no mistakes as Rob Lindsey was right on his back bumper waiting to strike. A pass for the lead out of turn two on lap 5 saw Rob Lindsey take over the lead. Ricky Ashley of Thurston, Ore worked his way into the top five, battling Chad Lindsey for position, as the top three put some distance on the rest of the field. Lap 12 saw Ashley and Chad Lindsey work their way closer to Johnson for third, looking for a podium finish. Ashley looked low in turn one a handful of times but couldn't make the pass. Lap 20 saw Ashley move into third, as Johnson looked to get the position back on the low side. Ashley rode the rim of the 3/8 banked clay oval and had the momentum to keep the position. Rob Lindsey checked out in the feature event, picking up the win over Hantel, Ashley, Chad Lindsey and Johnson. Only one heat race for the series saw Greene pick up the win, Hantel won the Dash, and Rob Lindsey was fast time.
PHRA Dwarf Cars
Kyle Thompson of Hillsboro, Ore led the field to the green, but it was Woodland's Dan Hix taking the early lead. Sandy, Ore driver Justin DeMars joined in on the mix and battled for the lead with Dan Hix. Both raced side by side, DeMars took over the top spot in turn two on lap 2. Dan Hix continued in second as Thompson and Mollala, Ore's Henry Corbin III battled for third. Corey Estaban of Gaston, Ore worked his way into the top five, looking to make a three-car battle for third. The battle for the lead continued as DeMars and Dan Hix put some distance on Thompson, Estaban and Corbin III. Dan Hix looked low a handful of times, but couldn't make the pass on DeMars. Lap 11 saw Thompson have issues in turn one and spin to the infield, bringing out the caution. On the restart it was DeMars, Dan Hix, Estaban, and Corbin III looking to do battle. Estaban worked his way into second, setting his sights on DeMars for the lead. Corbin III and Mike Shoen of Hillsboro, Ore battled it out for the fourth position. DeMars continued to lead, making no mistakes as Estaban and Dan Hix were right on his back bumper. The fourth position continued to be one of the many races to watch as Shoen, Corbin III and Dave Brune of Boring, Ore battled it out. Shoen picked up the spot, as Brune worked his way into the top five. A late race caution for Thompson, spinning in turn four setup a three-lap shootout, DeMars timed his restart just right as Estaban was right on his back bumper. Contact between Brune and Dan Hix caused a bit of havoc for third allowing Mt. Angel, Ore driver Adam Walker to move into third. DeMars took the checkered flag, holding off a hard charging Estaban, Walker, Dan Hix, and Brune rounded out the top five. Heat race winners earlier were Corbin III and Estaban.
Racing action will resume next Saturday night with the IMCA Modified Clash. Also joining the IMCA Modifieds will be the IMCA Northern SportMods, Northwest Pro 4 Trucks, and Hornets. Gates will open at 4:30 with racing starting at 6PM. For more information, go to www.graysharborraceway.com
Grays Harbor Raceway
Hall of Fame 360 Battle Royal
Night 2
June 19, 2022
360 Sprint Cars:
Heat 1A:
2X Justin Sanders, 2. 2L Logan Forler, 3. 91 Chase Goetz, 4. 18T Tanner Holmes, 5. 41 Dominic Scelzi, 6. 0J Jay Cole, 7. 15 Jeff Dunlap
Heat 2A:
19 Colby Thornhill, 2. 21 Jesse Schlotfeldt, 3. 88N DJ Netto, 4. 33T Tyler Driever, 5. 4L Lane Taylor, 6. 96 Andy Caruana, 7. 28R Eric Rockl
Heat 3A:
24 Jordi Meese, 2. 33s Lance Sargent, 3. 21 Mitchell Faccinto, 4. 7 Tyler Thompson, 5. 42X Andy Randall, 6. 34 TJ Richman
Heat 1B:
Scelzi, 2. Cole, 3. Holmes, 4. Sanders, 5. Forler, 6. Goetz, 7. Dunlap
Heat 2B:
Netto, 2. Schlotfeldt, 3. Taylor, 4. Thornhill, 5. Caruana, 6. Driever, 7. Rockl
Heat 3B:
Thompson, 2. Faccinto, 3. Sargent, 4. Meese, 5. Randall
A-Main:
Starks, 2. Solwold, 3. Netto, 4. Sanders, 5. Bergman, 6. Faccinto, 7. Heath, 8. Scelzi, 9. Schlotfeldt, 10. Thornhill, 11. Thompson, 12. Holmes, 13. Forler, 14. Driever, 15. Dunlap, 16. Meese, 17. Randall, 18. Sargent, 19. Rockl, 20. Cole, 21. Taylor, 22. Goetz
Wingless Sprint Series
Fast Time:
23 Rob Lindsey - 15.519
Heat Race:
22 Chris Greene, 2. 29W Alex Hantel, 3. 23 Rob Lindsey, 4. 9 Garrett Thomas, 5. 48 Chad Lindsey, 6. 50 Ricky Ashley, 7. 151 Duke Johnson, 8. 52 Tim Alberding, 9. 51 Tim Martin
Dash:
Hantel, 2. Rob Lindsey, 3. Johnson, 4. Chad Lindsey, 5. Greene, 6. Alberding, 7. Ashley, 8. Martin, 9. Thomas
A-Main:
Rob Lindsey, 2. Hantel, 3. Ashley, 4. Chad Lindsey, 5. Johnson, 6. Alberding, 7. Greene, 8. Martin, 9. Cannon
PHRA Dwarf Cars
Heat 1:
89Z Henry Corbin III, 2. 24 Justin DeMars, 3. 46 Kyle Thompson, 4. 21 Adam Walker, 5. 54o Dave Brune, 6. 00 Jim Pavel, 7. 00x Doug Pirtle, 8. 88o Dylan Chrisman
Heat 2:
36 Corey Estaban, 2. 96 Mike Shoen, 3. 57 Dan Hix, 4. 17X Crystal Flath, 5. 86K Doug McVae, 6. 22X Blaine Hix, 7. 3K Jim Fischer, 8. 90Z Henry Corbin II
A-Main:
DeMars, 2. Estaban, 3. Walker, 4. Dan Hix, 5. Brune, 6. Flath, 7. Corbin III, 8. Fischer, 9. Pavel, 10. Pirtle, 11. Corbin II, 12. Blaine Hix, 13. Thompson, 14. Shoen, 15. McVae
---
Article Credit: Aaron Reed
Article Media
Back to News