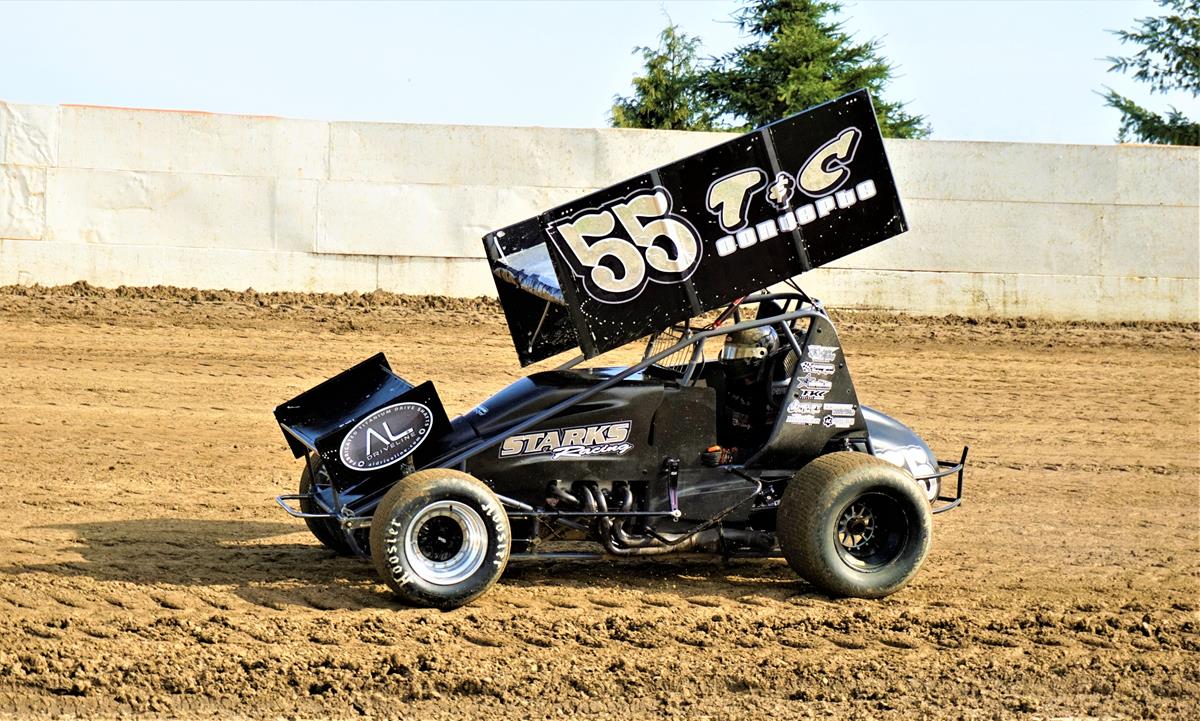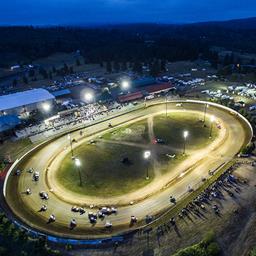 4/26/2022
Grays Harbor Raceway
---
Starks, Blood, Destry Miller, Briggs Sr, and Paladin Winners on Season Opener
The 2022 season has officially started on the 3/8 banked clay oval, with the 360 Sprint Cars, IMCA Modifieds, Super Stocks, Limited Sprint Cars and Hornets taking to the raceway. A total of 94 cars filled the pit area, with the weather being in the low 60's and sunshine. During the off season the track had some rework done, unfortunately mother nature has not played nice, giving us a cold and a wet springtime.
Super Stocks
Tommy Hecker of Spanaway led the field to the green flag in the 20-lap feature event. St. Helens, Ore driver Terry King ran in the second spot, looking to track down Hecker. Lap 2 saw contact between King and Hecker, with both drivers continuing on and Hecker maintaining the lead. Rodger Perry of Belfair ran in the third position with Bernie Lujan of St. Helens, Ore getting closer to his back bumper. Larry Paladin of Aberdeen worked his way into third, bringing a pair of Kerrigan's with him, as Austin and Shane of Aberdeen worked their way past Lujan. On a restart, Matt White of Aberdeen worked his way into the top three with a pass down the front stretch, Paladin, Austin Kerrigan and Perry made their way back into the third through fifth position. Paladin set his sights on King and Hecker for the top spot, making a pass on the inside of turn one on lap 10. Paladin successfully made the pass a lap later in turn four and looked to take the lead from Hecker. Lap 13 saw Paladin lead Hecker and Kerrigan until the caution flag flew on lap 14 for Chuck Goodman of Olympia. On the restart it was Paladin leading the field of Hecker and Matt White. Paladin quickly worked his way up to a half a straight away lead and picked up the checkered flag. Hecker, Matt White, Shane Kerrigan and Perry rounded out the top five. Heat race winners earlier in the evening was Woodland's Don Briggs Jr, and Shane Kerrigan.
Limited Sprint Cars
Sedro Woolley driver Steve Parker, and Carnation's Levi Kuntz set the front row of the feature event. Parker took the early lead as Shelton's Destry Miller moved into the third spot. Snohomish driver Sean Johnson made a pass out of turn two on Miller and took over third, looking to track down Parker and Kuntz. Johnson brought out the yellow flag on lap 4 with mechanical issues ending his night. Parker led Kuntz and Miller to the green, but the caution flag flew with Parker having mechanical issues going down the front stretch. Kuntz led Miller and Monroe driver Kiera Zylstra to the green flag. Miller was right at the back bumper of Kuntz for a handful of laps until Kuntz slowly pulled away. The battle for third between Zylstra and Axel Oudman of Arlington was the race to watch. Kuntz worked his way through lap traffic, putting some distance on Miller. Oudman worked his way into third, quickly catching Miller and moving into the runner up spot. Kuntz saw front end issues allowing Oudman to take over the lead on lap 15. Miller made his way back into the second position looking to track down Oudman. Lap 22 saw the caution flag fly for debris in turn four. On the restart Oudman led Miller to the green flag. Oudman saw problems in turn four bringing out the caution. Miller led Zylstra to the green. Zylstra looked to make a pass for the lead, staying within striking distance of Miller but mechanical issues once again saw the caution flag, and the feature cut short. Miller picked up his first career win over Mike Adkins of Bothell, Zylstra, Oudman and Kuntz rounded out the top five. Heat race winners were Johnson and Parker.
IMCA Modifieds
27 IMCA Modifieds signed in for the first race of the 2022 season. Olympia's Tyson Blood and Craig Moore of Seabeck set the front row of the 25-lap feature event. Blood took the early lead with Shelton's Scott Miller briefly jumping into second. Moore on the high side took the position back. Miller was shuffled back to fifth as Vancouver's Don Jenner battled Moore for the second position. A three-car battle ensued as Zack Simpson of Aberdeen joined in. Blood continued to pull away until lap 5 as the caution flag flew for Mike Knox Jr of Tacoma. Blood led Moore and Simpson to the green with Jenner back in the fourth position. Shelton's Brenton Schnitzer looked to make a move for third, trying to get around Jenner and Moore, with Simpson working his way into second. Simpson stayed close to the back bumper of Blood, wanting to take the lead. Lap 8 saw the caution for Elma driver Ryen Haney as he stopped in turn two. Schnitzer looked low on the restart, trying to take the top spot from Blood and Simpson, making it a two for one pass. Blood took the top spot back quickly. Jenner also joined in on the battle moving into second. Plenty of racing all over the raceway saw multiple battles as Blood continued to lead. Late in the feature, Schnitzer and Simpson battled for second, allowing Blood to pull away. Simpson saw tough company late in the feature as Cosmopolis driver Tom Sweatman worked his way into third, after coming from the back of the feature, and the B-Main event. Lap 21 saw Schnitzer make a bid for the lead in turn one racing side by side with Blood. Schnitzer tried again in turn four, almost spinning the car out, allowing Blood to extend his lead again, and pick up the win. Schnitzer, Sweatman, Simpson and Warren, Ore driver Jeremy Martin rounded out the top five. Heat race winners were Simpson, Miller, Moore and Blood, with Sweatman winning the B-Main event.
360 Sprint Cars
Harrisburg, Ore driver Tyler Thompson and Logan Forler of Boise, Idaho set the front row of the 25-lap feature. Thompson quickly took the lead, disaster struck as Thompson became sideways down the backstretch, collecting Forler and hard contact by Reece Goetz of Snohomish sending Goetz upside down. Jesse Schlotfeldt of Sedro Woolley was also involved. All drivers walked away from the incident. On the restart. it was Shelton's Jay Cole leading the field to the green. Cole saw slight contact by Jacksonville, Ore driver Tanner Holmes as Garen Linder of Medford, Ore made contact with the front end of Cole's car, ending the night for Linder. A third attempt at a restart saw Puyallup's Trey Starks take the lead. Holmes had contact with the turn two wall, bringing out the caution. Due to the track conditions the feature went to a single file start, with Starks taking the lead over Chase Goetz of Snohomish. The battle for third saw Luke Didiuk of Vancouver, BC and Greg Hamilton of Burlington race side by side, with Hamilton taking over third. Lap 4 saw Hamilton get upside down in turn four bringing out the red flag. Hamilton was ok. Starks led Goetz and Didiuk, as Steven Snawder of Cottage Grove, Ore look to make his way into the top three, battling with Didiuk. After an earlier incident Cole worked his way back into the top five, with a missing nose wing, looking to track down Didiuk. Starks continued to lead, as he worked his way through lap traffic, working up to a straightway ahead of Goetz. The 25-lap feature was shortened to 15 laps, with Starks picking up the win over Chase Goetz, Snawder, Cole and Lance Sargent of Spanaway rounding out the top five. Starks, Schlotfeldt, and Reece Goetz picked up heat race wins earlier in the evening. Thompson picked up quick time.
Hornets
Wishkah's Don Briggs Sr. led the field to the green flag in the Hornet feature. Zach Dalrymple of Olympia and Burlington's Howard Vos battled for second. The caution flag flew for Aberdeen's Cory Sweatman, slowing in turn one. The restart saw Vos on the back bumper of Briggs Sr, looking to take over the top spot. Dalrymple continued to run in third, as Max Sanford of Belfair, and Aberdeen's Jeff Hatton battled it out for the fourth position. Jacob Brewer of Yelm also joined in on the mix, working his way past Sanford and Hatton. Vos continued to stay close with Briggs Sr, waiting for any mistake. Vos looked low a few times late in the feature event but it was Briggs Sr picking up the win over Vos, Dalrymple, Sweatman, and Hatton. Heat race saw Don Briggs Jr of Woodland and Vos taking the checkered flag.
Racing will resume next Saturday night, as it's $5 general admission into the grandstands. Limited Sprint Cars, IMCA Modifieds, PHRA Dwarf Cars, Super Stocks and IMCA Hobby Stocks will be in action. Gates will open at 4:30PM, racing at 6PM. For information on the April 30th event go to https://www.graysharborraceway.com/schedules/event/384852.
Grays Harbor Raceway
April 23, 2022
Hornets:
Heat 1:
713 Don Briggs Jr, 2. 0 Zach Dalrymple, 3. 07 Jeff Hatton, 4. 81 Megan White, 5. 33 Dale Vacknitz, 6. 16D Ian Buck, 7. 423 Randy Goodman, 8. 98 Scott Beauduin, 9. 024 Josh Walker, 10. 22s Kaleya Onasch
Heat 2:
03 Howard Vos, 2. 13XXX Don Briggs Sr., 3. 1s Cory Sweatman, 4. 3 Max Sanford, 5. 21X Spencer LeCompte, 6. 83 Johnny Jennings Jr., 7. 19 Martin Reed, 8. 37 Mark Cooper, 9. 45 Josh Thompson
A-Main:
Briggs Sr, 2. Vos, 3. Dalrymple, 4. Sweatman, 5. Hatton, 6. Sanford, 7. White, 8. Reed, 9. Buck, 10. Vacknitz, 11. Jennings Jr, 12. LeCompte, 13. Cooper
Super Stocks:
Heat 1:
13XXX Don Briggs Jr, 2. 53L Bernie Lujan, 3. 97 Rodger Perry, 4. 13K Terry King, 5. 23B Matt White, 6. 5B Chuck Goodman, 7. 9 Brad Korpela
Heat 2:
43K Shane Kerrigan, 2. AK47 Austin Kerrigan, 3. 2 Larry Paladin, 4. 5 Tommy Hecker, 5. 1 Riley Scherer, 6. 83 Jason Wolcott, 7. 90 Brenden White
A-Main:
Paladin, 2. Hecker, 3. Matt White, 4. Shane Kerrigan, 5. Perry, 6. King, 7. Briggs Jr, 8. Korpela, 9. Lujan, 10. Wolcott, 11. Austin Kerrigan, 12. Goodman, 13. Scherer, 14. Brenden White
Limited Sprint Cars:
Heat 1:
14 Sean Johnson, 2. 29 Levi Kuntz, 3. 3X Destry Miller, 4. 71 Mike Adkins, 5. 10X Branden Skeeters
Heat 2:
23 Steve Parker, 2. 21Z Kiera Zylstra, 3. 51 Tim Martin, 4. 75L Samuel Strange, 5. 7o Axel Oudman
A-Main:
Miller, 2. Adkins, 3. Zylstra, 4. Oudman, 5. Kuntz, 6. Strange, 7. Martin, 8. Parker, 9. Johnson
IMCA Modifieds:
Heat 1:
12 Zack Simpson, 2. 40 Mike Knox Jr, 3. 714 Zach Fuller, 4. 28X Larry Buchanan, 5. 58 Devon Reed, 6. 93 Elliott French, 7. 28B Bud Russell, 8. 110 Ross Watkins.
Heat 2:
26 Scott Miller, 2. 6X Don Jenner, 3. 34 Jason Tole, 4. 99 Jeremy Martin, 5. 75 Alan Grimbly, 6. 11 Tom Sweatman, 7. 31Z Zane Miner
Heat 3:
M14 Craig Moore, 2. 18 Sam Carlisle, 3. 67 Ryen Haney, 4. 41 Tim Phillips, 5. 28R Josh Richardson, 6. 17 Brian Izzi
Heat 4:
97 Tyson Blood, 2. 19 Brad Martin, 3. 87K Brenton Schnitzer, 4. 39 Del Schnitzer, 5. 42 Kevin Hanson, 6. 28 Brian Harding
B-Main:
Sweatman, 2. Harding, 3. Izzi, 4. Hanson, 5. Watkins
A-Main:
Blood, 2. Brenton Schnitzer, 3. Sweatman, 4. Simpson, 5. Jeremy Martin, 6. Brad Martin, 7. Moore, 8. Grimbly, 9. Izzi, 10. Miller, 11. Carlisle, 12. Jenner, 13. Tole, 14. Richardson, 15. Harding, 16. Haney, 17. Reed, 18. Knox Jr, 19. Fuller, 20. Phillips
360 Sprint Cars:
Fast Time:
7 Tyler Thompson
Heat 1:
55 Trey Starks, 2. 91 Chase Goetz, 3. 18T Tanner Holmes, 4. 7 Tyler Thompson, 5. 8R Greg Hamilton, 6. 10J Jake Waddell, 7. 23 Jesse Kuntz, 8. 22C Carly Holmes
Heat 2:
21 Jesse Schlotfeldt, 2. 2L Logan Forler, 3. 0J Jay Cole, 4. 15 Jeff Dunlap, 5. 12 Steven Snawder, 6. 33s Lance Sargent, 7. 55C Cory Johnson, 8. 1M Mike Brown
Heat 3:
9 Reece Goetz, 2. 9A Luke Didiuk, 3. 4L Lane Taylor, 4. 22L Garen Linder, 5. 66 Brett McGhie, 6. 28R Eric Rockl, 7. 24 Jordi Meese
A-Main:
Starks, 2. Chase Goetz, 3. Snawder, 4. Cole, 5. Sargent, 6. Taylor, 7. Didiuk, 8. McGhie, 9. Carly Holmes, 10. Kuntz, 11. Hamilton, 12. Rockl, 13. Waddell, 14. Tanner Holmes, 15. Linder, 16. Thompson, 17. Forler, 18. Reece Goetz, 19. Meese, 20. Schlotfeldt.
---
Article Credit: Aaron Reed
Article Media
Back to News