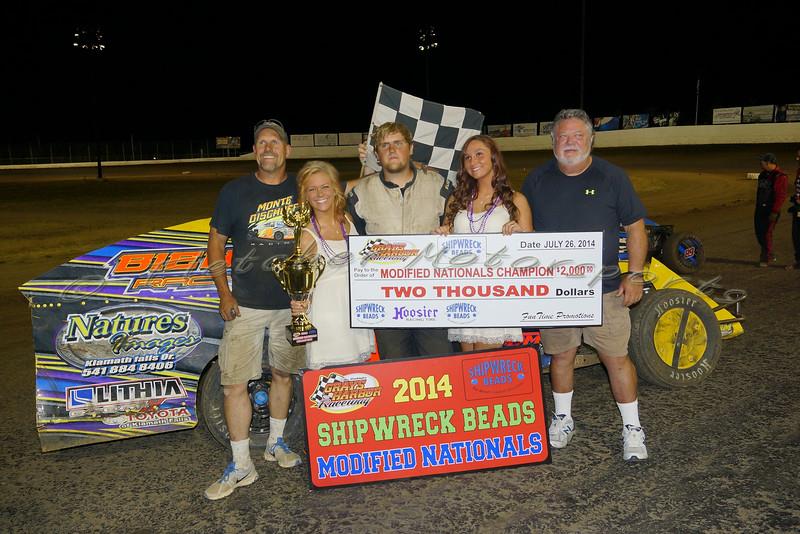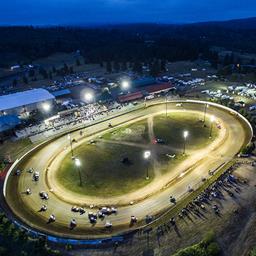 7/27/2014
Grays Harbor Raceway
---
Nick Trenchard Wins 15th Annual Northwest Modified Nationals Finale!
Nick Trenchard Wins 15th Annual Northwest Modified Nationals Finale!
Klamath Falls, Oregon driver Nick Trenchard was the car to beat on the final night of the 15th Annual Shipwreck Beads Northwest Modified Nationals. Starting on the pole for the 25 lap feature. Trenchard would waste no time, taking the lead from the drop of the green flag. Starting on the outside of Trenchard was Albany, Oregon driver Craig Hanson. Hanson tried to make a pass on the backstretch on Trenchard, but couldn't do it, allowing Trenchard to pull away. Meanwhile Dayton, Oregon's Bubba Foster would battle with Hanson for second, racing side by side with him on the first lap. Foster would get around Hanson for second out of turn two, and focus his sights on Trenchard who was starting to pull away from the field. Jason Beaulieu of Campbell River, British Columbia would work his way around Hanson for third a few laps later, and Matthew Drager of Albany, Oregon would also start to work over Hanson.
Trenchard would continue to pull away from the field, but there was side by side, and three wide racing all over the racetrack for position. Seabeck's Craig Moore would start to work the high side early in the feature, as he would start to pick off drivers one at a time, getting around Port Hardy, British Columbia's Lawrence O'Connor for sixth, and set his sights on Hanson and Drager for the fourth and fifth position. Craig Moore and O'Connor would race side by side for a handful of laps, with Moore taking the position from O'Connor. Jason Beaulieu and Foster would start to battle for the second position, as Beaulieu would work the low side of the speedway, and race side by side with Foster down the front stretch on lap 11. Beaulieu would take the position from Foster in turn one, while Drager, Hanson, and Craig Moore would all three battle for the fourth spot. O'Connor would be on their back bumpers waiting for any advantage to pick up a position.
Trenchard would work through lap traffic almost perfectly, stretching his lead to over a straightaway, while the drivers behind him all battle for position. One of the battles to watch on the track was between, a pair of Vancouver drivers, Matt Jenner and Don Jenner, as well as Redmond, Oregon's Mark Carrell. All three drivers would battle for position, getting three wide a few times, with Carrell taking over the position between the three.
As the 25 lap feature went caution free, Nick Trenchard would become the 11th different winner of the Shipwreck Beads Northwest Modified Nationals. Not only that picking up the $2000. Jason Beaulieu, Bubba Foster, Matthew Drager, and Lawrence O'Connor rounded out the top five. Heat race winners were Matthew Drager, McCleary's Josh Muller, Medford, Oregon's Jeremy Richey, and Craig Moore. Nick Trenchard also won the Scramble. C-Feature went to Saint Helen, Oregon driver Todd Hardesty. Vancouver's Robert Jenner won the B-Feature, and Jason Beaulieu would win the Race of States, picking up an extra $200. Picking up fast time was Don Jenner.
Pacific Hardtop Racing Association Dwarf Cars:
The Pacific Hardtop Racing Association Dwarf Cars were also on hand once again to put on a show for the fans. Mason Luleman of Grants Pass, Oregon was looking to finish one spot higher then he did the night before as he started on the pole, with Hillsboro, Oregon driver Eric Bergquist on the outside. As the field took the green flag, Luleman would jump to the early lead, with Bergquist right on his back bumper. Friday night's winner Henry Corbin III of Mollala, Oregon would work his way into the second spot, getting around Berquist down the backstretch on lap one. Corbin III would work his way around Luleman for the lead down the front stretch, but Luleman would work to his inside to try to take the lead back. Corbin III would pull away slightly down the front stretch, but into turn one Lulman would try to make a move on Corbin III. Down the backstretch Luleman would get a little sideways, allowing Medford, Oregon's Josh King to take over the second position. Luleman would try to take the position back from King down the front stretch, and work his way back into second into turn one. Luleman, King, and Berquist would make it a three car battle for the second position, with Eagle Point, Oregon driver Brock Peters chasing them down. All three drivers would race close for numerous laps.
Corbin III would start to pull away slightly. King would get a run on Corbin out of turn four, and racing side by side with Corbin III down the frontstretch and into turn one. King would take the lead from Corbin III out of turn two, and pull away slightly from the rest of the field. The battle to watch on the speedway between Berquist, Peters and Corbin III was very exciting later into the feature. Berquist would run the second spot, with Peters in third, Corbin III in fourth, but it wasn't very long until they started to shake things up between the three drivers.
At the end of the caution free, Pacific Hardtop Racing Association 25 lap feature. Josh King would pick up the win, Brock Peters would finish second, Henry Corbin III would finish third, Eric Berquist, and Gaston, Oregon driver Corey Estaban would round out the top five. Winning the four heat races were Corey Estaban, Josh King, Cascade Locks, Oregon driver Kevin Benson, and Mason Luleman. We did have one red flag of the evening, during heat three, as contact between Medford, Oregon's Reggie Ayres and Carson driver Rich Holbert sent Ayres flipping wildly in turn one. Also involved was Happy Valley, Oregon driver Leo Ward, who made contact with Holbert's car putting his car over as well. Ayres did walk away from the crash, and Holbert and Ward were both ok. Portland, Oregon driver Jim Fischer would win the C-Feature, and Corey Estaban was the winner of the B-Feature.
Racing will resume next Saturday, August 2nd, with the 360 Sprint Cars, Street Stocks, and Outlaw Tuners. Gates will open at 5:30 PM, and racing will begin at 7:00 PM. For more info go to www.graysharborraceway.com
Grays Harbor Raceway
July 26, 2014
Night #2
15th Annual Shipwreck Beads Northwest Modified Nationals
Pacific Hard Top Racing Association Dwarf Cars
PHRA Dwarf Cars:
Heat 1:
36 Corey Estaban, 2. 94 Jeremiah Hester, 3. 18C Rick Taylor, 4. 90Z Henry Corbin II, 5. 00 Jim Pavel, 6. 81 Charles Millar, 7. 18W Steve Taylor, 8. 13Z Brett Olney, 9. 48 Brian Lee
Heat 2:
09S Josh King, 2. #88 car , 3. 10S Fred Hay, 4. 88S John Chrisman, 5. 66S Dillon Chrisman, 6. 3 Jim Fischer, 7. 8W Dale Knutson, 8. 2S Cody Peterson, 9. 51 Scott Drake
Heat 3:
0 Kevin Benson, 2. 86K Ryan McVae, 3. 39K Tim Hester, 4. 4W Brian Taylor, 5. 1 Buddy Scheid, 6. 88 Ron Brewer , 7. 11 Rich Holbert, 8. 75 Leo Ward, 9. 77 Reggie Ayres
Heat 4:
9S Mason Luleman, 2. 68 Eric Bergquist, 3. 07S Brock Peters, 4. 89Z Henry Corbin III, 5. 2 James Brinster, 6. 95S Kaycee Sheeler, 7. 76X Scott Dorie, 8. 69 Ronnie Gilmore Jr. 9. 22K Jess Turner Jr, 10. 2C Danny Karslake
C-Main:
Fischer, 2. Drake, 3. Knutson, 4. John Chrisman, 5. Peterson, 6. Millar, 7. Lee, 8. Taylor, 9. Olney
B-Main:
Estaban, 2. King, 3. Jeremiah Hester, 4. John Chrisman, 5. Turner Sr, 6. Hay, 7. Benson, 8. Pavel, 9. Fischer, 10. Corbin II, 11. Tim Hester, 12. Brian Taylor, 13. Scheid, 14. Rick Taylor, 15. Knutson, 16. Peterson, 17. Dillon Chrisman
A-Main:
King, 2. Peters, 3. Corbin III, 4. Bergquist, 5. Estaban, 6. Hay, 7. Luleman, 8. John Chrisman, 9. Gilmore Jr, 10. Turner Jr, 11. Jeremiah Hester, 12. Dorie, 13. Karslake, 14. Sheeler, 15. Turner Sr, 16. Brinster, 17. Benson, 18. Tim Hester, 19. Pavel, 20. Brian Taylor, 21. Fischer, 22. Peterson, 23. Scheid, 24. Corbin II
15th Annual Northwest Modified Nationals
Fast Time:
6X Don Jenner
Heat 1:
21A Matthew Drager, 2. 90 Jason Beaulieu, 3. 6X Don Jenner, 4. D4 Shawn Dorie, 5.26 Scott Miller, 6. 5R Robert Jenner, 7. 47B Steve Signal, 8. 44 Del Schnitzer, 9. 91 Chris Beaulieu, 10. 14K Kyler Moore
Heat 2:
3M Josh Muller, 2. 27 Lawrence O'Connor, 3. 27C Mark Carrell, 4. 6MJ Matt Jenner, 5. 9K Morgan Criswell, 6. 55 Carl Larson, 7. 58 James Wolfard, 8. 13M Matt Arnold, 9. 10 Gus Cooper, 10. 11K Kyle Casson
Heat 3:
15J Jeremy Richey, 2. 33C Craig Hanson, 3. 52 Leroy Lawhead, 4. 21C Curt Coggins, 5. AK47 Austin Kerrigan, 6. 22M Mel Decker, 7. 47 Larry Buchanan, 8. 45 Jason Kocks, 9. 46 David Bottoms
Heat 4:
M14 Craig Moore, 2. 54N Nick Trenchard, 3. 68 Bubba Foster, 4. X3 Chris Quinn, 5. 53V Jake VanOrtwick, 6. 45S Aaron Sheelar, 7. 73 Brian Gray, 8. 90C Graham Cook, 9. 26T Todd Hardesty
Scramble:
Trenchard, 2. Hanson, 3. Foster, 4. Jason Beaulieu, 5. Matt Jenner, 6. Don Jenner
C-Main:
Hardesty, 2. Chris Beaulieu, 3. Cook, 4. Kyler Moore, 5. Cooper, 6. Arnold, 7. Bottoms
B-Main:
Robert Jenner, 2. Scott Miller, 3. VanOrtwick, 4. Wolfard, 5. Larson, 6. Sheelar, 7. Decker, 8. Kerrigan, 9. Kyler Moore, 10. Schnitzer, 11. Criswell, 12. Buchanan, 13. Gray, 14. Chris Beaulieu, 15. Kocks, 16. Signal, 17. Cook, 18. Hardesty
Race of States:
Jason Beaulieu, 2. O'Connor, 3. Foster, 4. Don Jenner, 5. Hanson, 6. Matt Jenner
A-Main:
Trenchard, 2. Jason Beaulieu, 3. Foster, 4. Drager, 5. O'Connor, 6. Craig Moore, 7. Carrell, 8. Hanson, 9. Matt Jenner, 10. Don Jenner, 11. Quinn, 12. Muller, 13. Richey, 14. VanOrtwick, 15. Lawhead, 16. Coggins, 17. Dorie, 18. Scott Miller, 19. Robert Jenner, 20. James Wolfard
---
Article Credit: Aaron Reed
Submitted By: Steve Beitler
Back to News