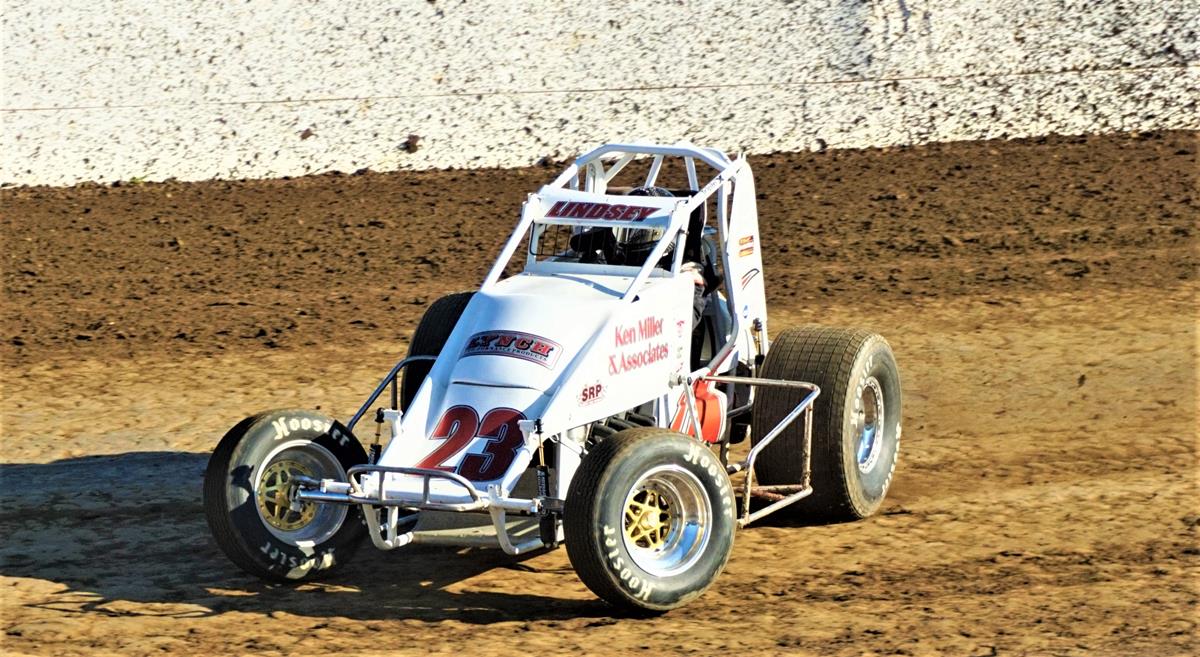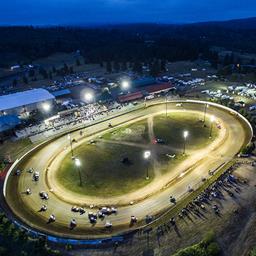 9/10/2021
Grays Harbor Raceway
---
Rob Lindsey Winner on Final Wingless Sprint Series Event of 2021
By Aaron Reed
The Wingless Sprint Series brought 19 cars on Monday night as the support class of the NOS Energy Drink World of Outlaws Sprint Cars. The weather was perfect, as the sun was shining bright and a packed grandstands.
Lance Hallmark of McMinnville, Ore and Sherwood, Ore driver Chad Lindsey set the front row for the Wingless Sprint Series feature. Hallmark took the early lead but saw a hard charging Chad Lindsey looking to the outside of turn two to take the lead. Chad was successful with the pass and took over the top spot. Hallmark continued in second as Rob Lindsey of Sherwood, Ore ran in third. Rob Lindsey took over the runner up spot on lap 7 from Hallmark. It was the battle between father and son, as Chad Lindsey led his father, Rob. Running the low side of the 3/8 banked clay oval. Both drivers caught up with lap traffic, allowing Rob to catch up with Chad. The battle for third saw Daysen Thomas of Springfield, Ore look to make a move at Hallmark. After a handful of laps. Thomas took the spot on lap 14. As the battle for the lead started to heat up. Chad Lindsey still held on to the top spot over Rob Lindsey, the caution flag flew for Prineville, Ore's Tim Kennedy with front end damage in turn three. On the restart it was Chad Lindsey, Rob Lindsey, Thomas, and Tacoma's Jonathan Jorgenson looking to make a bid for the lead. It was Rob Lindsey taking over the top spot from his son Chad in turn four on lap 17. Rob quickly started to put some distance as Chad battled Thomas for second. Rob Lindsey picked up the win over Thomas who made a late race pass at Chad Lindsey for second. Snohomish driver Cody Ridge was fourth and Jorgenson was fifth. Earlier in the evening the Wingless Sprint Series saw Hallmark, Ridge and Thomas picked up the three heat races. Heat two saw Spanaway's Chris Greene go for a wild ride in turn four after contact with an infield tire. Greene did exit the severely damaged race car on his own and was ok. Rob Lindsey also picked up quick time.
Racing will resume in two weeks. Saturday September 18th for Season Championship and GIANT Fireworks Show. 360 Sprint Cars, Limited Sprints, IMCA Modifieds, Super Stocks and Hornets will be on hand and champions for the 2021 season will be crowned. Gates open at 4:30PM with racing at 7PM.
Grays Harbor Raceway
September 6, 2021
Wingless Sprint Series
Fast Time:
23 Rob Lindsey - 15.395
Heat 1:
1. 8H Lance Hallmark, 2. 9 Jake Helsel, 3. 52 Tim Alberding, 4. 23 Rob Lindsey, 5. 19 Thomas Walker, 6. 18 Gene Cannon, 7. 98 Brent Rich
Heat 2:
1. 36 Cody Ridge, 2. 2J Jonathan Jorgenson, 3. 38 Nate Geister, 4. 8 Tony Offutt, 5. 28R Eric Rockl, 6. 75L Chris Greene
Heat 3:
1. 32 Daysen Thomas, 2. 29W Alex Hantel, 3. 50 Ricky Ashley, 4. 48 Chad Lindsey, 5. 78 Don Trent, 6. 26K Tim Kennedy
A-Main:
1. Rob Lindsey, 2. Thomas, 3. Chad Lindsey, 4. Ridge, 5. Jorgenson, 6. Hallmark, 7. Helsel, 8. Hantel, 9. Geister, 10. Ashley, 11. Alberding, 12. Cannon, 13. Rockl, 14. Trent, 15. Offutt, 16. Walker, 17. Kennedy
---
Article Credit: Aaron Reed
Submitted By: Bert Johnson
Article Images
Back to News