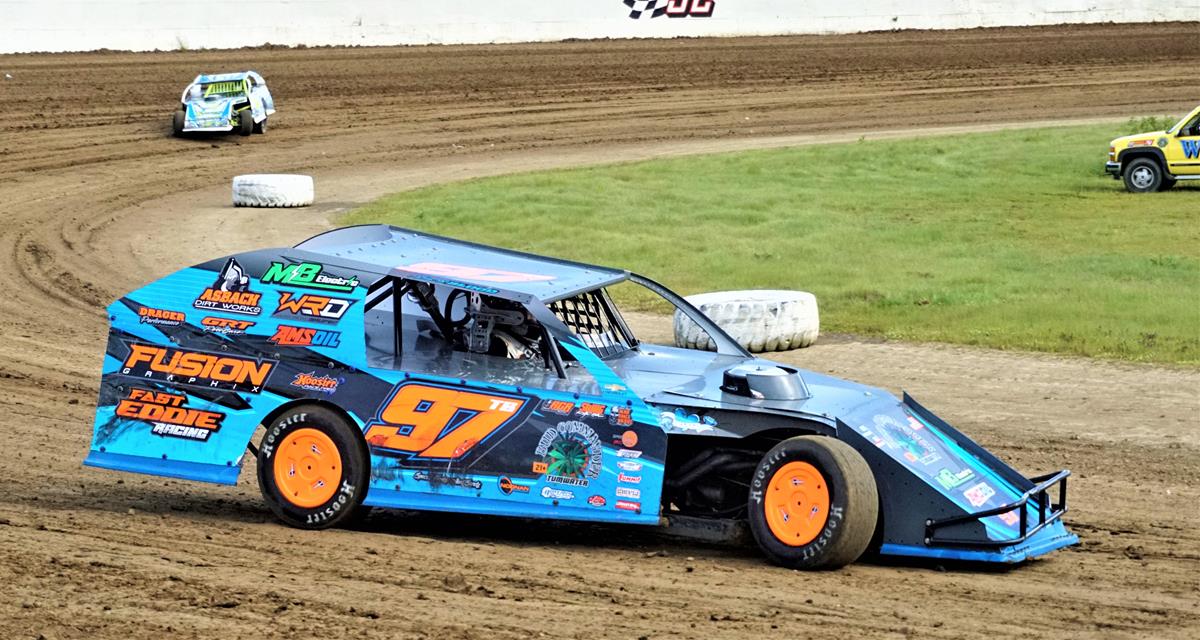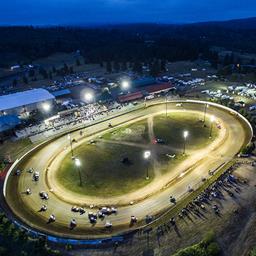 5/22/2022
Grays Harbor Raceway
---
May 21 Results
Zylstra, Lampert First Time Winners, Blood, Estaban, Shane Kerrigan Return to Victory Lane
By Aaron Reed
After 3 weekends of rain outs and an early attempt from mother nature on Saturday with a brief rain shower. The sun was shining bright on the 3/8's of Grays Harbor Raceway. $5 Night was on hand, with the IMCA Modifieds, Limited Sprint Cars, Super Stocks, PHRA Dwarf Cars, and the PMSA 600cc Micro Sprints.
IMCA Modifieds
Kevin Hanson of Rochester and Spanaway's Zack Fuller set the front row of the 25 lap IMCA feature event. Hanson took the early lead in turn one. Fuller saw trouble in turn four and a multiple car pile-up brought out the red flag. All drivers involved were ok. On the restart it was Hanson getting the lead, Olympia driver Tyson Blood and Scott Miller of Shelton battled for second and were right at the back bumper of Hanson. Blood looked to the outside in turn four and raced side by side with Hanson. The caution flag flew on lap 2 for debris, unfortunately Hanson saw mechanical issues and stopped in turn two ending his evening. Blood led Miller and Seabeck's Craig Moore to the green flag. Hoquiam driver Jason Tole jumped into the battle for third, with Mike Knox Jr of Tacoma right behind. Blood put some distance on Miller, as the battle to watch was for third between Tole and Moore. A three-car battle for second saw Miller, Tole and Moore duke it out for the runner up position as Blood continued to pull away. Moore saw tough company from Knox Jr and Yakima's Don Martin as the battle between fourth through sixth was exciting. Moore maintained the position with Martin getting by Knox Jr for fifth. Lap 13 saw Shelton driver Jason St. Paul spin, bringing the caution flag out. Blood timed his start perfectly, as Tole, Miller and Moore continued to battle for second. It was all Tyson Blood picking up his second win of the 2022 season. Tole, Moore, Miller and Shelton's Brenton Schnitzer rounded out the top five after bringing out a mid-race caution. Heat race winners earlier in the evening were Hanson and Moore.
Super Stocks
Belfair's Rodger Perry led the field to the green flag during the 20 lap Super Stocks feature event. Hoquiam driver Jason Tole moved into the second spot quickly as Shane Kerrigan of Aberdeen took over third. The caution flag flew for Daryl Brumfield of Satsop with mechanical issues ending his night. Tole led the field to the green after taking the lead out of turn four on the previous lap. Tole saw a hard charging Shane Kerrigan looking to take over the top spot. Perry saw Austin Kerrigan of Aberdeen look to take third with a pass out of turn four. Perry maintained the position as Shane Kerrigan took over the lead from Tole. Lap 6 saw Austin Kerrigan get sideways in turn two, almost spinning but continued on, allowing Tommy Hecker of Spanaway to make it close to his back bumper. Lap 8 saw Riley Scherer of Maytown spin in turn four bringing out the caution. It was Shane Kerrigan, Tole, Austin Kerrigan, and Hecker bringing the rest of the field to the green flag. Shane continued to lead, as his son Austin worked into the second position. At the end of the 20-lap feature, it was a pair of Kerrigan's up front as Shane picked up the win over son Austin. Tole, Matt White of Hoquiam, and Paladin rounded out the top five. Heat race winners were Scherer and Shane Kerrigan.
PHRA Dwarf Cars
15 PHRA Dwarf Cars took to the raceway for their 25-lap feature event. Mollala, Ore driver Henry Corbin III took to the early lead over Justin DeMars of Sandy, Ore. Corbin III put some distance on DeMars, as Gaston, Ore's Corey Estaban looked to join in on the battle. Estaban worked his way into second, getting around DeMars, and setting his sights on Corbin III for the lead. DeMars looked to make it a three-car battle. Corbin III put some slight distance between himself and Estaban, as DeMars looked to make a bid for second. Estaban looked to the middle groove to make a pass at Corbin III, but was unsuccessful. Lap 11 saw the caution flag fly for an incident in turn three involving Jim Pavel of Mollala, Ore and Hillsboro, Ore driver Mike Shoen. On the restart Estaban looked to the outside of Corbin III and took the lead. DeMars moved into second after making a pass on the outside. A battle between Woodland driver Dan Hix and Shawn Dorie of Scappoose, Ore was the race to watch. Hix also made a bid for third getting around Corbin III. A late green flag run saw Estaban and DeMars battle it out, both drivers maneuvering through lap traffic. DeMars staying within striking distance of Estaban. As the two drivers took the white flag, DeMars saw once last chance to take over the lead and pick up the win. Both drivers raced side by side coming to the checkered flag and it was Estaban picking up the win. DeMars, Hix, Dorie and Corbin III rounded out the top five. Heat race winners earlier in the evening were Estaban, DeMars, and Pavel.
Limited Sprint Cars
Bothell's Mike Adkins led the field to the green flag in the 20-lap feature. Kiera Zylstra of Monroe jumped out to the early lead with Adkins and Shelton's Tim Martin in third. Destry Miller of Shelton worked his way by Martin for third looking to track down Adkins and Zylstra. Adkins looked to make some ground, looking to track down Zylstra for the lead as Miller made it to the back bumper of Adkins. Miller looked low at Adkins for second during numerous laps. Miller made the pass successful in turn two on lap 10. Martin and Adkins battled for third for a handful of laps with Martin working his way to a podium finish. Tacoma's Samuel Strange stayed within distance to make his way into fourth late in the feature. Zylstra continued to lead as Miller tried to make a charge, but a bobble in turn four allowed Zylstra to extend her lead and pick up her first career Grays Harbor Raceway win. Miller, Martin, Strange and Adkins rounded out the field. Strange picked up the heat race win earlier in the evening, with Zylstra picking up fast time.
PMSA 600cc Micro Sprints
The PMSA 600 Micro Sprints made their first appearance of the year to the 3/8's banked clay oval. The 15-lap feature saw Forrest Grove, Ore driver Jojo Batalgia and Barry Lampert of Mollala, Ore set the front row. Batalgia and Lampert battled for a lap before Lampert took over the top spot. Paul Cengic of Carson looked to join in the mix. Lampert put some distance between himself and Batlagia, Cengric and Corbett, Ore's Crystal Flath. Batalgia did make some distance looking to make a bid for the lead but lap 12 saw her night end after spinning in turn two. On the restart it was Lampert, Cengric, Flath and William Wolfe of Portland, Ore. Lampert quickly jumped out to the lead and held on to pick up the win over Cengic, Flath, Wolfe and Forrest Grove, Ore driver Trevor Brenner. Cengric picked up the heat race earlier in the evening.
Racing resumes next Saturday and Sunday. May 28th & 29th for Memorial Day weekend. OCCU Presents the Timber Cup and Salute to Indy, featuring the NARC-Fujitsu King of the West 410 Sprint Cars during the Fastest Four Days In Motorsports, the Wingless Sprint Series, and IMCA Modifieds on both nights. Sunday will feature a giant firework show after the racing action. Gates will open at 4PM, with racing at 6PM. For more information go to www.graysharborraceway.com
Grays Harbor Raceway
May 21, 2022
PMSA 600cc Micro Sprints
Heat Race:
37 Paul Cengic, 2. 2X Crystal Flath, 3. 33L Barry Lampert, 4. 53X Jojo Batalgia, 5. 38 William Wolfe, 6. 99 Eric Dehning, 7. 44 Trevor Brenner
A-Main:
Lampert, 2. Cengic, 3. Flath, 4. Wolfe, 5. Brenner, 6. Dehning, 7. Batalgia, 8. Pirtle
Limited Sprints
Fast Time:
21Z Kiera Zylstra - 14. 014
Heat Race:
75L Samuel Strange, 2. 3X Destry Miller, 3. 51 Tim Martin, 4. 71 Mike Adkins, 5. 21Z Kiera Zylstra
A-Main:
Zylstra, 2. Miller, 3. Martin, 4. Strange, 5. Adkins
Super Stocks
Heat 1:
1 Riley Scherer, 2. 5 Tommy Hecker, 3. M57 Mike Mann, 4. 2 Larry Paladin, 5. 11 Daryl Brumfield
Heat 2:
43K Shane Kerrigan, 2. 34 Jason Tole, 3. 97 Rodger Perry, 4. 23B Matt White, 5. 5B Chuck Goodman, 6. 15 Dylan Sims
A-Main:
Shane Kerrigan, 2. Austin Kerrigan, 3. Tole, 4. White, 5. Paladin, 6. Mann, 7. Perry, 8. Hecker, 9. Scherer, 10. Brumfield
Dwarf Cars
Heat 1:
36 Corey Estaban, 2. 89Z Henry Corbin III, 3. 57 Dan Hix, 4. 17X Crystal Flath, 5. 22X Blaine Hix
Heat 2:
24 Justin DeMars, 2. D4 Shawn Dorie, 3. 96 Mike Shoen, 4. 3K Jim Fischer, 5. 333 Jason Fike
Heat 3:
00 Jim Pavel, 2. 90Z Henry Corbin II, 3. 0k Chris Hutson, 4. 72L Jeremy Long, 5. 00X Doug Pirtle
A-Main:
Estaban, 2. DeMars, 3. Dan Hix, 4. Dorie, 5. Corbin III, 6. Shoen, 7. Flath, 8. Pavel, 9. Fischer, 10. Corbin II, 11. Blaine Hix, 12. Hutson, 13. Fike, 14. Pirtle, 15. Long
IMCA Modifieds
Heat 1:
42 Kevin Hanson, 2. 26 Scott Miller, 3. 97 Tyson Blood, 4. 52 Geoff Morris, 5. 714 Zach Fuller, 6. 31Z Zane Miner, 7. 39 Del Schnitzer, 8. 28R Josh Richardson, 9. 75 Alan Grimbly, 10. 23C Ron Comfort
Heat 2:
14 Craig Moore, 2. 87K Brenton Schnitzer, 3. 17 Brian Izzi, 4. 31 Don Martin, 5. 34K Jason St. Paul, 6. 93 Elliott French, 7. 40 Mike Knox Jr., 8. 34T Jason Tole
A-Main:
Blood, 2. Tole, 3. Moore, 4. Miller, 5. Brenton Schnitzer, 6. Martin, 7. Knox Jr, 8. French, 9. Grimbly, 10. Richardson, 11. St. Paul, 12. Miner, 13. Comfort, 14. Hanson, 15. Fuller, 16. Izzi, 17. Morris
---
Article Credit: Aaron Reed
Article Media
Back to News