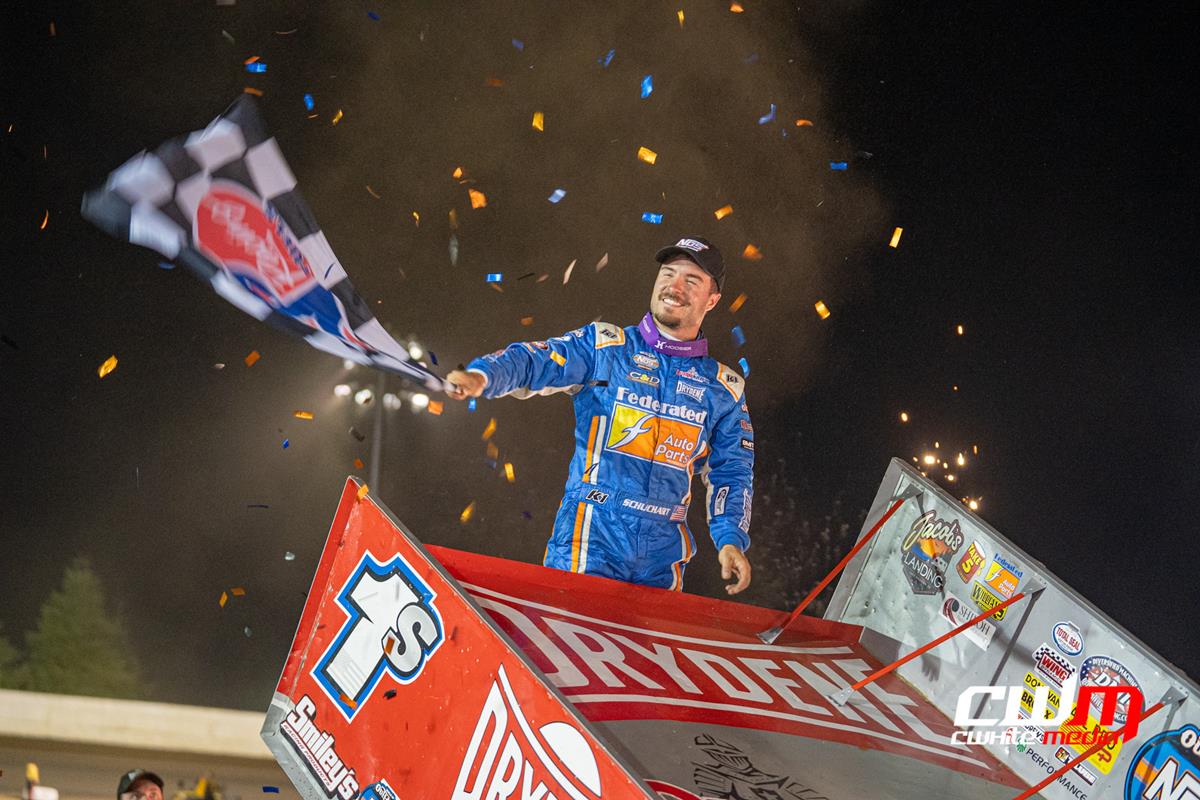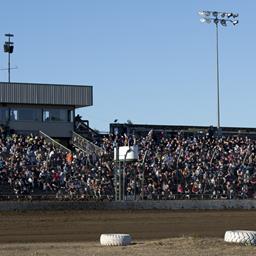 9/5/2023
Grays Harbor Raceway
---
Logan Schuchart flies Labor Day checkers at Grays Harbor
Logan Schuchart flies Labor Day checkers at Grays Harbor
By Alex Nieten, WOO Sprint Series PR (Elma, WA) --
The last two weeks couldn't have been more different for Logan Schuchart. First, a two-night sweep in North Dakota elevated him to the highest of highs. Then the Sage Fruit Skagit Nationals brought the opposite as he finished 13th or worse three straight nights.
PHOTO CREDIT: C White Media
On Monday at Grays Harbor Raceway in Elma, WA for the Labor Day Extravaganza, the Hanover, PA native returned to high ground. Schuchart led all but the first circuit of the 30-lap Feature on his way to a World of Outlaws NOS Energy Drink Sprint Car win. The Shark Racing pilot swiped the lead on Lap 2, worked through traffic, and benefited from some timely cautions to claim his third victory in the last six races.
After that difficult stretch at Skagit, the Victory Lane visit served as a welcome confidence boost as Schuchart and the team continue their search to establish consistency.
"Skagit was tough on us. I'd like to get more consistent for sure. These guys work their butts off," Schuchart said. "We've got a great group of people here at Shark Racing. They deserve the best. We'll keep working hard and trying to get more consistent. Wins are great. It's what you want. But to win championships, you've got to be more consistent."
Schuchart moved up to 41 career World of Outlaws wins as he notched his sixth of 2023. Adding to his Grays Harbor triumph from 2021, Schuchart became the ninth different driver to top multiple races at the Washington oval.
After topping the Toyota Racing Dash, Schuchart led the field to green aboard his Drydene/Duramax #1S. On the first lap, outside pole sitter – Brad Sweet – snuck around Schuchart's outside to nose ahead down the back straightaway. Coming to the line to complete the circuit Sweet narrowly beat him to lead Lap 1.
As the lead duo entered Turn 1 side by side on Lap 2, Schuchart used his momentum to throw a slide job and clear the Napa Auto Parts #49. Heading into Turn 3 Schuchart stayed far enough ahead to avoid a counter slider from Sweet.
On an early restart with 27 laps to go, battles broke out all over behind Schuchart. Rico Abreu pulled next to Sweet for second but couldn't get by him. Behind them Donny Schatz and Buddy Kofoid engaged in war for fourth. The two traded sliders and crossovers and nearly touched wheels multiple times. Eventually, Schatz secured the spot.
At the front of the field, Sweet began to close in as Schuchart navigated traffic and the race neared the halfway mark. Schuchart struggled with a few lapped cars allowing Sweet to look under him. But Sweet lost momentum and not only couldn't take the lead but also lost second to Abreu. Right after taking over runner-up, Abreu briefly challenged Schuchart for the top spot in traffic, but the yellow flag flew as Kofoid spun from his spot inside the top five.
On the ensuing restart, Schuchart pulled ahead while Sweet attempted to slide Abreu but couldn't clear him.
As the laps dwindled Schuchart again found himself in heavy traffic. Abreu capitalized by closing in and appeared poised to duel with Schuchart. But with three laps to go, one final caution gave Schuchart clean air to the end and effectively sealed the victory.
When the green lights came back on Schuchart powered ahead and cruised to the checkered flag with over a one and a half second lead.
"I feel like the cautions definitely helped me out," Schuchart said. "There wasn't a whole lot around the bottom. I ran around there the first corner and heard Brad beside me and moved up right away to try and take his line and run a decent pace… My guys are working their butts off, and we're picking up some wins here the past couple weeks, so it feels good."
Abreu crossed the finish line in second for yet another strong run in what's been an amazing year. The St. Helena, CA native upped his podium total for the season to 13, more than double his previous personal best for one season with the World of Outlaws. Abreu came away happy with the result but wished traffic could've played more of a factor to heighten his chances of a win.
"Really thankful for these guys on this car. Everybody works really hard," Abreu said. "Lapped traffic, we needed that tonight. To get by Brad off the bottom. And Ricky (Warner) kept telling me the race was going to be won off Turn 4 on the bottom. I just waited and waited down there, moved up and then back down. Just the pace was so fast at the end of the race in clean air. You can almost run wide open around here."
In the closing laps, Donny Schatz was able to slip under Sweet to snag the final podium spot in the Advance Auto Parts #15. Like Abreu, Schatz now owns a baker's dozen top threes in 2023 with the World of Outlaws. And also like Abreu, the Tony Stewart/Curb Agajanian Racing pilot hoped to contend with more traffic in the Feature.
"My guys did a great job, pretty solid night," Schatz said. "We were competitive there most of the time. If we would've stayed in traffic, we might've been able to move around and do something. All in all a good night. The racetrack worked out fine. We could make the bottom work early and in traffic. Hats off to my guys."
Brad Sweet and Corey Day completed the top five.
A 21st to seventh drive gave James McFadden the KSE Racing Hard Charger.
Rico Abreu began the night with his second straight Simpson Performance Products QuickTime Award and the 17th of his career.
CASE No.1 Engine Oil Heat One went to Brad Sweet (279th Heat Race win of career). NOS Energy Drink Heats Two and Three were topped by Logan Schuchart (117th of career) and Buddy Kofoid (14th of career).
Logan Schuchart claimed the Toyota Racing Dash.
Austen Wheatley topped the Micro-Lite Last Chance Showdown.
The Smith Titanium Brake Systems Brake of the Race was given to Buddy Kofoid after his mid-race crash ended a potential top five run.
UP NEXT: The World of Outlaws NOS Energy Drink Sprint Cars invade California for the first time in 2023 as Chico, CA's Silver Dollar Speedway for the 69th Gold Cup Race of Champions. The three-night (September 7-9) event features split-field prelims on Thursday and Friday before concluding with Saturday's $25,000-to-win finale. For tickets, CLICK HERE.
If you can't make it to the track, catch all of the racing live on DIRTVision.
RESULTS
NOS Energy Drink Feature (30 Laps): 1. 1S-Logan Schuchart[1]; 2. 24-Rico Abreu[4]; 3. 15-Donny Schatz[3]; 4. 49-Brad Sweet[2]; 5. 14-Corey Day[5]; 6. 2-David Gravel[10]; 7. 83-James McFadden[21]; 8. 41-Carson Macedo[12]; 9. 18-Giovanni Scelzi[8]; 10. 41S-Dominic Scelzi[7]; 11. 2X-Justin Sanders[17]; 12. 1T-Tanner Holmes[9]; 13. 55-Trey Starks[14]; 14. 5-Spencer Bayston[13]; 15. 9-Kasey Kahne[18]; 16. 7S-Robbie Price[15]; 17. 17-Sheldon Haudenschild[11]; 18. 3Z-Brock Zearfoss[16]; 19. 20G-Noah Gass[23]; 20. 44W-Austen Wheatley[19]; 21. 9A-Luke Didiuk[22]; 22. (DNF) 21S-Jesse Schlotfeldt[24]; 23. (DNF) 83JR-Michael Kofoid[6]; 24. (DNF) 21-Cole Macedo[20]
Last Chance Showdown (12 Laps): 1. 44W-Austen Wheatley[2]; 2. 21-Cole Macedo[3]; 3. 83-James McFadden[5]; 4. 9A-Luke Didiuk[1]; 5. 20G-Noah Gass[6]; 6. 21S-Jesse Schlotfeldt[4]; 7. 17S-Cam Smith[8]; 8. 19-Colby Thornhill[7]; 9. 96-Greg Hamilton[9]; 10. 95-Justin Youngquist[12]; 11. 14B-Bailey Jean[10]; 12. (DNF) 3AU-Karl Hoffmans[11]; 13. (DNS) 6-Bill Rose
Toyota Dash (6 Laps): 1. 1S-Logan Schuchart[1]; 2. 49-Brad Sweet[2]; 3. 15-Donny Schatz[6]; 4. 24-Rico Abreu[4]; 5. 14-Corey Day[5]; 6. 83JR-Michael Kofoid[3]
Heat 1 (8 Laps): 1. 49-Brad Sweet[2]; 2. 24-Rico Abreu[1]; 3. 41S-Dominic Scelzi[5]; 4. 2-David Gravel[8]; 5. 5-Spencer Bayston[4]; 6. 3Z-Brock Zearfoss[3]; 7. 21-Cole Macedo[7]; 8. 20G-Noah Gass[9]; 9. 96-Greg Hamilton[10]; 10. 9A-Luke Didiuk[6]; 11. (DNS) 6-Bill Rose
Heat 2 (8 Laps): 1. 1S-Logan Schuchart[2]; 2. 14-Corey Day[3]; 3. 18-Giovanni Scelzi[1]; 4. 17-Sheldon Haudenschild[4]; 5. 55-Trey Starks[5]; 6. 2X-Justin Sanders[9]; 7. 21S-Jesse Schlotfeldt[7]; 8. 19-Colby Thornhill[8]; 9. 44W-Austen Wheatley[6]; 10. 3AU-Karl Hoffmans[10]
Heat 3 (8 Laps): 1. 83JR-Michael Kofoid[2]; 2. 15-Donny Schatz[1]; 3. 1T-Tanner Holmes[4]; 4. 41-Carson Macedo[5]; 5. 7S-Robbie Price[3]; 6. 9-Kasey Kahne[6]; 7. 83-James McFadden[7]; 8. 17S-Cam Smith[8]; 9. 14B-Bailey Jean[9]; 10. 95-Justin Youngquist[10]
Qualifying: 1. 24-Rico Abreu, 00:12.964[5]; 2. 18-Giovanni Scelzi, 00:13.118[14]; 3. 15-Donny Schatz, 00:13.143[8]; 4. 49-Brad Sweet, 00:13.219[4]; 5. 1S-Logan Schuchart, 00:13.251[10]; 6. 83JR-Michael Kofoid, 00:13.337[6]; 7. 3Z-Brock Zearfoss, 00:13.371[7]; 8. 14-Corey Day, 00:13.373[11]; 9. 7S-Robbie Price, 00:13.448[3]; 10. 5-Spencer Bayston, 00:13.452[15]; 11. 17-Sheldon Haudenschild, 00:13.480[22]; 12. 1T-Tanner Holmes, 00:13.493[16]; 13. 41S-Dominic Scelzi, 00:13.497[9]; 14. 55-Trey Starks, 00:13.515[18]; 15. 41-Carson Macedo, 00:13.597[23]; 16. 9A-Luke Didiuk, 00:13.609[2]; 17. 44W-Austen Wheatley, 00:13.708[12]; 18. 9-Kasey Kahne, 00:13.806[24]; 19. 21-Cole Macedo, 00:13.811[28]; 20. 21S-Jesse Schlotfeldt, 00:13.851[21]; 21. 83-James McFadden, 00:13.878[29]; 22. 2-David Gravel, 00:13.944[26]; 23. 19-Colby Thornhill, 00:14.037[25]; 24. 17S-Cam Smith, 00:14.074[20]; 25. 20G-Noah Gass, 00:14.142[19]; 26. 2X-Justin Sanders, 00:14.152[31]; 27. 14B-Bailey Jean, 00:14.340[13]; 28. 96-Greg Hamilton, 00:14.397[30]; 29. 3AU-Karl Hoffmans, 00:14.417[17]; 30. 95-Justin Youngquist, 00:14.472[27]; 31. (DNF) 6-Bill Rose, 00:14.472[1]
---
Article Credit: World of Outlaws
Submitted By: Shaun Hulbert
Article Media
Back to News