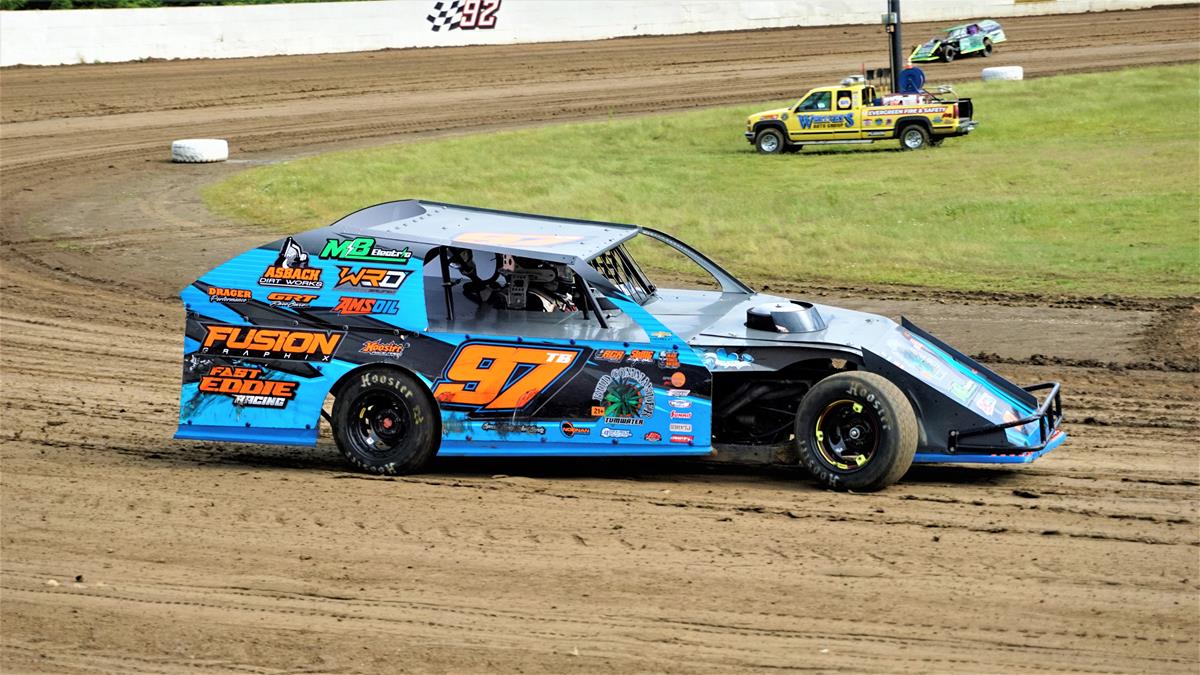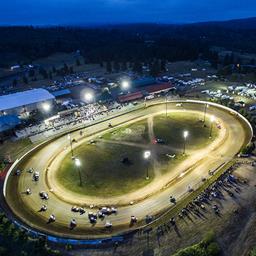 6/12/2022
Grays Harbor Raceway
---
Blood Wins 4 In a Row, Kuntz, Kerrigan, Briggs Sr Feature Winners
By Aaron Reed
The 2022 season has been rough, with numerous rain outs, mother nature allowed the 3/8's banked clay oval to roar to life as the IMCA Modifieds, Super Stocks, Hornets and Limited Sprint Cars took to the raceway.
Hornets
A great lineup of Hornets took to the raceway. It was Martin Reed of Woodland, leading the field to the green flag. Max Sanford of Belfair took the early lead with Ocean Shores driver Dale Vacknitz moving into second. Sean Sanford of Rochester saw a battle for third with Wishkah's Cory Sweatman. Max Sanford continued to lead as Vacknitz, Sean Sanford, and Sweatman made it a three-car battle for second. Vacknitz continued to hold on. Lap 3 saw the caution flag fly for Yelm driver Jacob Brewer, slowing to a stop in turn four. On the restart it was Max Sanford, Vacknitz, Sean Sanford leading the rest of the field. Olympia's Zach Dalrymple and Don Briggs Sr. of Wishkah battled the fourth position, looking to work their way to a podium finish. Briggs Sr. made his way around Sean Sanford and looked to track down Vacknitz for second. Briggs Sr. made the pass successful on lap 5 in turn two, setting his sights on Max Sanford. Briggs Sr. looked to make a pass for the lead on lap 8 in turn one and was successful and putting some distance on Max Sanford. A late race restart saw Max Sanford make a pass for the lead in turn one, taking over the top spot. Briggs Sr. stayed right on the back bumper looking to make a pass for the lead. The battle for fifth was an exciting battle as Sean Sanford and Elma's Scott Reed raced side by side. Reed on the low side looked to take over the position as Sean Sanford looked low in turn one and made some contact. Scott Reed still running the high side raced side by side with Sean Sanford. On the final lap, Briggs Sr and Max Sanford raced side by side to the checkered flag and it was Briggs Sr. picking up the win over Max Sanford, Vacknitz, James Gunter, and Scott Reed rounding out the top five. Heat race winners were Sweatman and Spencer LeCompte of Elma.
Limited Sprint Cars
Due to the figure 8 portion of the event being cancelled earlier in the week with standing water in the infield. The Limited Sprints were invited to run a non-points event. Steve Parker of Sedro Woolley and Monroe driver Kiera Zylstra set the front row of the feature. Zylstra took the early lead from Parker as Carnation driver Levi Kuntz moved into second. Parker saw tough company as Shelton's Destry Miller made the pass for third. The first caution of the feature on lap 2 saw Ryker Walde of Mount Vernon spin around in turn four. On the restart it was Zylstra leading Kuntz, Miller, and Parker. The battle for fifth saw Arlington driver Axel Oudman and Walde battle for position. It was Oudman who continued a top five run. Kuntz stayed to the back bumper of Zylstra, looking to make a bid for the lead. Zylstra ran the low side of the raceway as Kuntz ran a higher groove. Mid way through the feature Zylstra slowly put some distance, but not enough for any mistake. Late in the feature Kuntz started gaining on Zylstra, as lap 18 saw a battle for the lead. Kuntz looked to the low side a few times to make the pass, but it was in turn three when he took over the lead. Kuntz slowly extended his lead and went on to pick up his first feature event win at Grays Harbor Raceway. Zylstra, Miller, Parker, and Walde rounded out the top five. Zylstra won the heat race and picked up quick time earlier in the evening.
Super Stocks
Larry Paladin of Aberdeen took the early lead in the feature event. Belfair driver Rodger Perry and Hoquiam's Matt White battled for second. Perry continued in the runner up position. White saw tough company as Spanaway driver Tommy Hecker looked to make a battle for third. Austin Kerrigan of Aberdeen moved into fourth with a pass in turn two. Paladin extended his lead to over half a straightaway as Perry and White continued their battle for second. Kerrigan joined in on the battle making it a three-car shootout. The caution flag flew on lap 6 for White after contact with Perry, in turn four. On the restart it was Paladin leading Kerrigan, Perry, and Hecker. White looked to move his way quickly into fifth. Kerrigan moved into the lead, Paladin saw issues off of turn four getting sideways, allowing Perry and Hecker to make a battle for second. Kerrigan continued to extend his lead and picked up the win under a yellow/checkered finish after Perry made hard contact with the turn one wall. Paladin, Hecker, White and Riley Scherer of Maytown rounded out the top five.
IMCA Modifieds
Devon Reed of Vancouver and Rochester driver Kevin Hanson set the front row of the feature event. It was Reed out front early. The battle for second saw Elliott French of Aberdeen look to the low side of Hanson. Hoquiam's Jason Tole joined in on the mix moving into third. The caution flag flew on lap 3 for Paul Culp of Creswell, Ore spinning in turn four. The restart saw a three wide battle down the backstretch between Reed, Tole and Hanson. It was Tole getting the advantage but Reed powered back on the high side. Multiple three wide battles early in the feature event made for some exciting racing. Olympia's Tyson Blood moved into third, bringing Shelton driver Scott Miller with him. Reed put some slight distance on Tole, as the battle for second saw Blood work his way into the runner up position. Tole looked to make a pass back at Blood, as Miller joined in on the battle. Blood then set his sights on Reed, making a pass in turn four on lap 8 and quickly putting some distance. Reed saw a pack of drivers looking to take over second. Miller looked low a handful of times but couldn't make the pass. The caution flag flew on lap 10 for Miller after contact from Reed. Blood timed his restart perfectly and extended his lead on Tole and joining into the top three, Seabeck's Craig Moore. The battle for fifth saw Tacoma driver Mike Knox Jr and Sean Fox of Rainier, Ore battle for position for multiple laps. Fox's night came to an end after some mechanical issues. A late race battle for second was the race to watch between Tole and Moore. At the end of the 30-lap feature event, it was Blood making it four in a row at Grays Harbor Raceway, Tole, Moore, John Player of Springfield, Ore and Culp rounded out the top five. Heat race winners were Moore and Corbett, Ore driver Collen Winebarger.
Racing will resume next Saturday and Sunday June 18th and 19th, for the Hall of Fame Tribute 360 Battle Royal. 360 Sprint Cars, Wingless Sprint Series and PHRA Dwarf Cars will be in action. The 360 Sprint Cars on Saturday will be looking at $3000 to win, and Sunday will be $5000. This year the raceway will be honoring all the past Elma Hall of Fame Inductees. Gates will open at 4:30, racing at 6PM, for more information and tickets go to www.graysharborraceway.com.
Grays Harbor Raceway
June 11, 2022
IMCA Modifieds
Heat 1:
M14 Craig Moore, 2. 97 Tyson Blood, 3. 34 Jason Tole, 4. 58 Devon Reed, 5. 93 Elliott French, 6. 2C Corey Cook, 7. 34K Jason St. Paul, 8. 3 Jeremy DeGroot
Heat 2:
S Collen Winebarger, 2. 26 Scott Miller, 3. 42 Kevin Hanson, 4. 42c Paul Culp, 5. 40 Mike Knox Jr, 6. 7F Sean Fox, 7. 4th John Player, 8. 28R Josh Richardson, 9. 87K Brenton Schnitzer
A-Main:
Blood, 2. Tole, 3. Moore, 4. Player, 5. Culp, 6. Knox Jr, 7. Reed, 8. Richardson, 9. French, 10. Fox, 11. Hanson, 12. Miller, 13. Schnitzer, 14. Winebarger
Limited Sprints:
Quick Time:
21Z Kiera Zylstra - 13.754
Heat Race:
21Z Kiera Zylstra, 2. 23 Steve Parker, 3. 29 Levi Kuntz, 4. 3X Destry Miller, 5. 19W Ryker Walde, 6. 51 Tim Martin, 7. 7o Axel Oudman
A-Main:
Kuntz, 2. Zylstra, 3. Miller, 4. Parker, 5. Walde, 6. Oudman, 7. Martin
Super Stocks
Heat Race:
AK47 Austin Kerrigan, 2. 23B Matt White, 3. 97 Rodger Perry, 4. 2 Larry Paladin, 5. 5 Tommy Hecker, 6. 1 Riley Scherer, 7. 15 Dylan Sims
A-Main:
Kerrigan, 2. Paladin, 3. Hecker, 4. White, 5. Scherer, 6. Perry
Hornets
Heat 1:
1s Cory Sweatman, 2. 13X Don Briggs Sr., 3. 3 Max Sanford, 4. 2 Sean Sanford, 5. 07 James Gunter, 6. 0 Zach Dalrymple, 7. 41 Scott Reed, 8. 72 Jeremy Cleveland, 9. 27 Jon Cardwell
Heat 2:
21X Spencer LeCompte, 2. 45 Josh Thompson, 3. 33 Dale Vacknitz, 4. 19 Martin Reed, 5. 22 Jacob Brewer, 6. 81 Megan White, 7. 37 Mark Cooper, 8. 423 Randy Goodman
A-Main:
Briggs Sr, 2. Max Sanford, 3. Vacknitz, 4. Gunter, 5. Scott Reed, 6. Sean Sanford, 7. Martin Reed, 8. Cleveland, 9. Cooper, 10. Thompson, 11. Dalrymple, 12. LeCompte, 13. Cardwell, 14. Sweatman, 15. Goodman, 16. White
Back to News